The Delicious Delicacies of Paros, Greece
Mar 23, 2018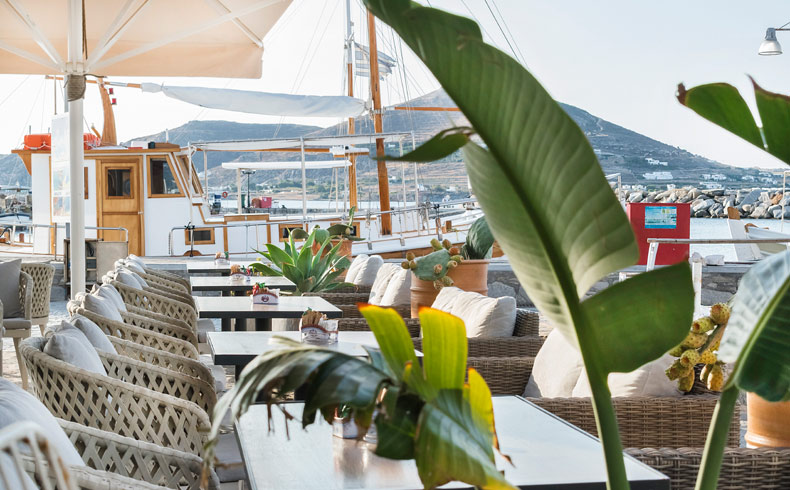 One of the delights of traveling is tasting the cuisine in a new city or even a different part of the world. This is even more delightful when the cuisine is something as exciting and tasteful as that of Paros, Greece.
There are Paros restaurants throughout the island that offer familiar menus for tourists, but if you want a more authentic vacation cuisine, you can find many Greek and seafood restaurants and tavernas with a delicious selection of local cuisine and delicacies. Here's our guide to eating your way through your Paros Island vacation.
Where to Eat – Paros Restaurants
The two busiest villages, Parikia and Naoussa, Paros have more than their fair share of excellent cuisine. You can find more than Greek food and seafood here, as throughout the island. These two villages especially have heavy tourist traffic, so many of the Paros restaurants have selections quite familiar to tourists.
You can find pizzerias, Mexican food, and Japanese and Chinese restaurants. But you came to Greece for a reason, and both Naoussa and Parikia are full of fine Greek cuisine and seafood restaurants, taking full advantage of the surrounding Aegean Sea.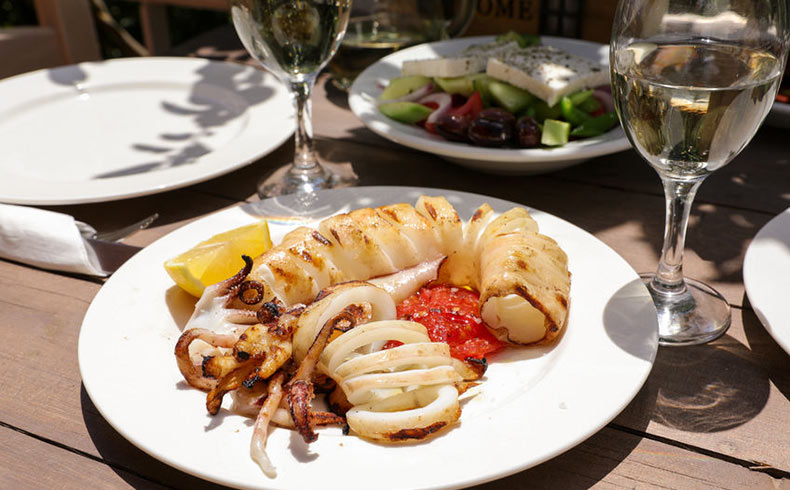 But Naoussa and Parikia don't have the monopoly on dining on Paros Island. Whether by the sea or further inland, there are local cuisine gems to find throughout Paros and Antiparos. Whether you want local delicacies or to mix it up with something different, you can find it in most villages in Paros Greece.
You can find something that matches your budget in any village as well. When it comes to budget, it doesn't matter what village so much as what restaurant. Fine dining restaurants will cost more, but you can find clean Paros restaurants with delicious food that aren't quite so formal and will cost less.
What to Eat
One mistake that many tourists make when dining in Paros, Greece is reading off the menu. Of course, each restaurant will have a menu and those menus will give you an idea of what they serve at their restaurant — that's the idea. But locals often don't read the menu when they go to the restaurant. Instead, they ask the chef what specials are available. You may be surprised at the variety you can find there. Not all Greek cuisine is meat: if you're interested in vegetarian options, ask the chef.
Some of the popular local delicacies of Paros include: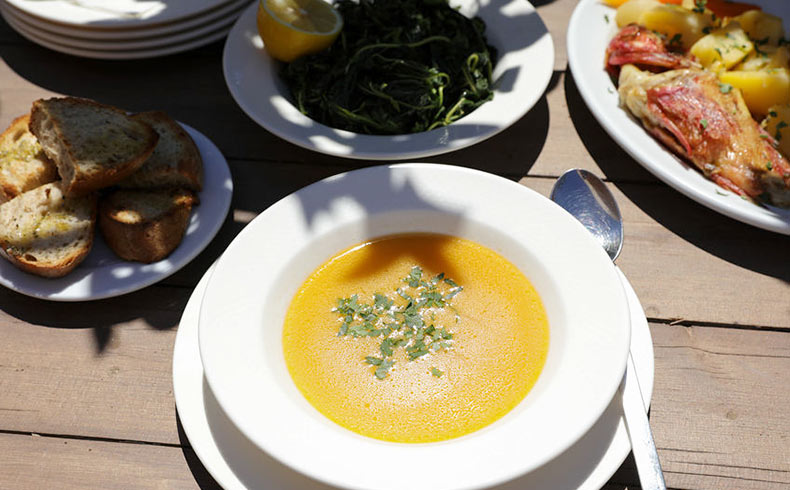 – Gouna (roasted mackerel)
– Kakavia (the Greek version of bouillabaisse, a soup made with a variety of fish and vegetables)
– Karavalous (boiled snails served with a tasty garlic sauce)
– Mizithra (white cheese from goat milk)
– Petimezinia (locally baked pumpkin pie)
– Seafood like octopus, squid, fish, etc.
Traditional Tavernas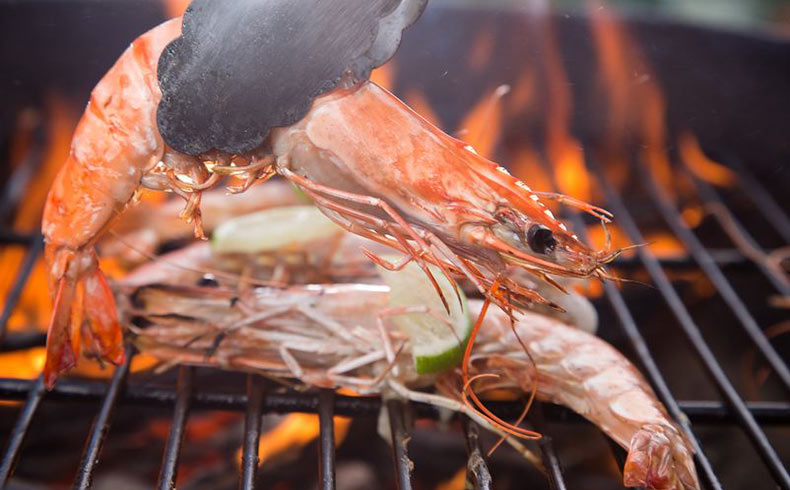 Traditional tavernas are an important part of the food culture in Paros, Greece. Many tourist use the term "taverna" to simply mean a greek restaurant, but it's a little more specific than that. Tavernas have limited but tasty selection and simply serve what they have on hand. Tavernas also typically include entertainment like music and dancing, where typical restaurants focus on the food.
Tavernas a big part of the nightlife as well as cuisine. They are usually categorized by the type of food they serve. If a taverna focuses on fish, it is a Psaro (fish) Taverna and are generally located on the seaside. They offer no menu as it might be changeable from day to day. Instead, the staff tells you what they have available. Tavernas are locally owned and the perfect place to get a taste for the local flavor.
By the Beach
Many beaches in Paros Greece include nearby beach bars, restaurants, or tavernas. Because there's so much traffic to the beach during the day, it makes sense for Paros restaurants to position themselves close by. Most of the beach bars offer a variety of cocktails, and the restaurants will likely focus on fish and seafood as that's what's most available.
However, again, you should be able to find a good variety because of the variety of tourists who all enjoy the beach. Near Monastiri beach, for instance, there's a restaurant that sells sandwiches which many tourists often take with them to the beach.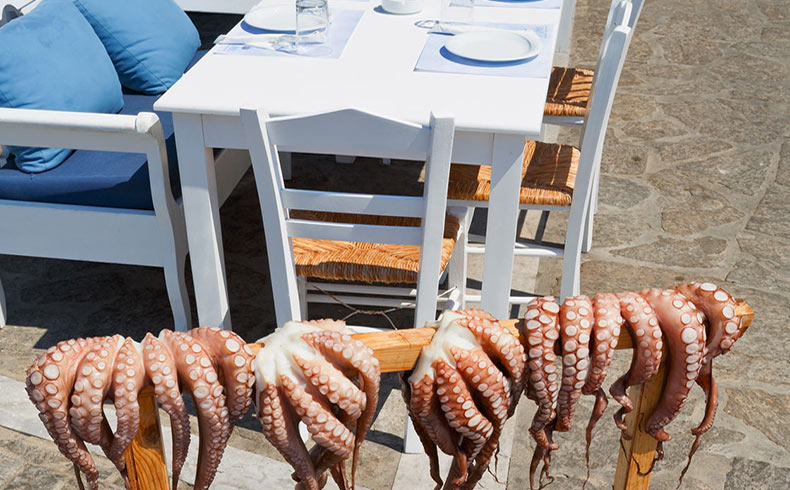 Eating At Your Hotel
When you book your Paros accommodation for your vacation, they will likely have dining options of their own. For instance, Stelia Mare offers a snack bar by the pool which serves both cold and warm dishes, and a breakfast room where you can enjoy all the traditional breakfast selections.
Of course, your hotel, no matter how luxurious, is no substitute for gourmet meals from a locally owned Greek restaurant, Paros hotels on the beach at Naoussa, Paros will also be within a close distance to some of the best Paros restaurants on the island.
If you want a hotel in Naoussa, Paros that offers delicious snacks and luxury comfort for your Paros Island vacation, the answer is Stelia Mare.